We are proud to be providing the increasingly imperative service to Edmonton of video transferring. This service is provided in house, at our studio with love and care. Remember, your family's home video tapes are degrading as you read this!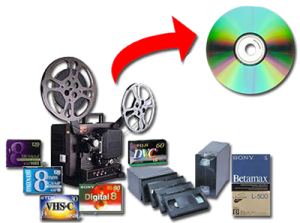 We can transfer:
VHS to DVD
Beta to DVD
8mm Cassette to DVD
Audio Cassette to DVD
MiniDV to DVD
VHS to USB Memory Stick
Beta to USB Memory Stick
8mm Cassette to USB Memory Stick
Audio Cassette to USB Memory Stick
Mini DV to USB Memory Stick
Film Reel to USB Memory Stick
Film Reel to DVD
PAL VHS to DVD or USB
PAL 8mm Cassette to DVD or USB
Reel to Reel Audio to CD or USB
How Video Transfers Work
Not too sure how the process works? Let us take care of the whole thing.
Step 1: Call Reel Mensch Productions at 780 263 4533, and let us know what you've got.
Step 2: Drop your precious tapes off at our downtown location (12018-102 Ave, Edmonton, Alberta) and stay for a coffee and popcorn if you like.
Step 3: Decide where you want the memories to end up. If you are comfortable watching DVDs on a home player- we will put them on DVD. If you are comfortable on a computer, you may consider having us put your memories on a memory stick.  We recommend a USB because it is easier to make copies.
Step 4: If there is any damage to the tapes, we will assess it and see if it can be fixed by our in-house tape technician. We will not proceed without your permission… Hopefully your tapes will not need repair- 99% do not.
Step 5: The process' duration varies according to the type of media, and the amount of tapes, but we are certainly accommodating to your deadline… like a birthday/holiday gift. So when they are completed, come by and pick them up. Stay for a coffee or popcorn again.
We also provide the optional service of producing and manufacturing professional quality DVD packages, with custom artwork. We will make your DVDs look like a movie that you would buy in a store. GREAT GIFT IDEA!
As far as our company is concerned, we are competitive, creative, local and very accessible. We can handle time sensitive projects and our chief objective is to output an amazing product every chance we get. Check out our YouTube channel for a taste of our video production work.
Put your cherished memories into trusted hands, and let us do all of the transferring work.
Video Transfer to USB Memory Sticks
Memory sticks/hard drives are a great way to store your memories. Take a box of dusty old tapes that are degrading with time, and transfer all of the footage onto a very small and reliable piece of hardware. New televisions on the market are able to plug these drives right into the side, and play the files while you sit back on the couch. You can also purchase as many drives as you wish, and duplicate all of the footage countless times, so that you can bury a few copies in a closet somewhere, and know that the memories are safe. These memory sticks are a GREAT GIFT!
Pricing Charts
Prices are subject to change. Bulk prices may be discussed in larger amounts.
Video cassette: VHS, VHS-C, BETA, 8mm, MiniDV
$33 to DVD
$44 to digital MP4
Audio: Audio Cassette Tape, Vinyl Record
$44 to CD
$55 to MP3
Film Reels: (8mm, 16mm)
$33 per reel (3" (50 ft) to DVD or USB)
$66 per reel (4" (100ft) to DVD or USB)
$99 per reel (7" (400ft) to DVD or USB)
You can bring in your own USB or hard drive for us to load your footage on. Or we can sell you memory sticks here.
USB sticks range between $15-$50, according to size.
Questions?
Call us any time at 780-263-4533
Email us at jared@reelmensch.com